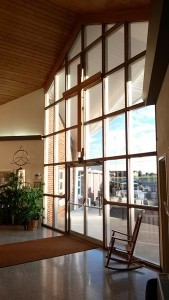 Although, the exact date of the founding of this congregation cannot be ascertained we do know that Trinity Lutheran is rich in heritage. The facts as we know them tell us that in the year 1854 about ten German Lutheran families came to Union City and found it necessary and helpful to meet together in the name of our Lord. The congregation, having no church property, assembled in the homes of the various members and in a building which was used as a store room. This building was just south of the Big Four Railroad on the Deerfield road.
They were served by visiting ministers now and again. But it wasn't until 1856 when the Rev. Phillip Lacker of the Miami Synod arrived on the scene to help give birth to the new congregation. He became this congregation's first Pastor in June of 1857 and served until October of that same year. The "Trinity Lutheran Church" of Union City had come into being.
Here are some "firsts" as noted in the congregation's records. The first baptism was performed in November or December of 1856 and the child received the name of Wilhelmina Marie Klumpp. The first confirmation class, July 3, 1860. The class was composed of Detrich and John wigger, John Schneiderman and Jacob Finz. The first communion was celebrated on November 29, 1857 with 28 people in all and that became the nucleus of our holy Christian church. The first marriage was solemnized on October 27, 1857, between Arend Abel, Jr. and Anna Margaret Schmacker. The first funeral service was for Jocob F. Loeher, age 1 year, 4 months and 27 days, on February 13, 1861. And the first church council was elected on February 28, 1857 and named Arend Abel, Sr. and Wm. Schneiderman elders and John L. Rosenbush and Carl Schneiderman trustees.
The German language was used exclusively in Trinity Lutheran until 1860, when, although all the members were German, English services were added. Both languages were used until 1918, when German usage in the congregation's worship and business ceased.
Through the years the Trinity congregation have been blessed by God and there have been three places of worship that this congregation has built: the first in 1860, the second in 1875, and the current location on State Route 47 in 1967.
Our long history as a congregation has been celebrated on our 100th Anniversary in 1957 and our 125th Anniversary in 2007.
Today, Trinity is a congregation of the Evangelical Lutheran Church of America and apart of the Indiana-Kentucky Synod. The people of Trinity have been worshiping God and sharing His love for over 150 years now. Trinity is a "Loving Place" and a "Celebrating People." Our current mission is: "Caring, Loving, and Serving ALL God's People." The joy we experience together is a sign of our confidence in God's grace and his enabling power at work in our lives. We hope that anyone who comes to Trinity will experience that same love and become a part of our rich heritage.